we would like to say thank you to all that gave there support and kindness during our time of sorrow.It meant a lot to us to know that you were there for us and to know that rick has so many people who care about him and his family.

also heartfilled thanks to major harvey and dorren canning for doing the service for us.it meant a lot to mom and dad and ricks family to have someone from our family to do the service.thank you again.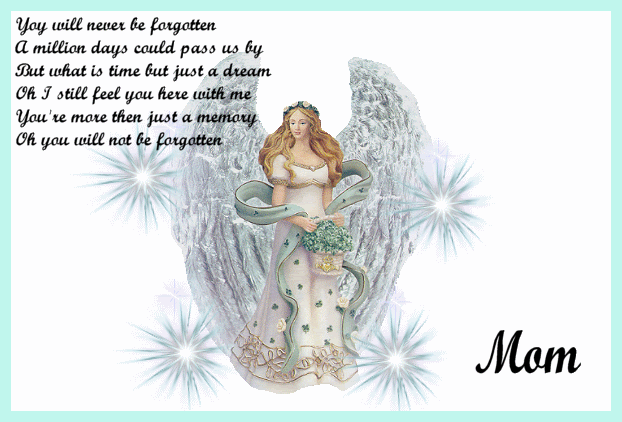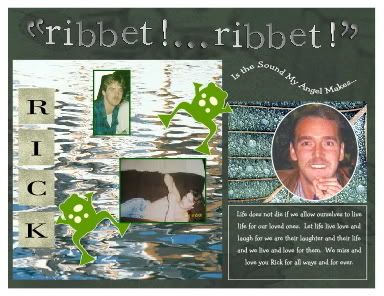 Thank you to Gail Coy for this lovely picture she did in memory of ricks two year angel date.
Gail is an angel mom to crystal earnhart.please take time to visit her site.
http://www.crystal.earnhart.memory-of.com

thank you gail.







THANK YOU TO PAMELA HOPEY FOR THIS BEAUTIFUL POEM
AND THE WORDS ARE SO WELL PUT TOGETHER AND SPEAKS
THE TRUTH OF GRIEVING PARENTS.

PLEASE TAKE THE TIME TO VISIT JAMIES SITE

http://www.jamie-hopey-memory-of.com

THANK-YOU.


MY MOM, SHE TELLS A LOT OF LIES...

SHE NEVER DID BEFORE.
FROM NOW UNTIL THE DAY SHE DIES
SHE'LL TELL A WHOLE LOT MORE.

SHE USE TO TELL THE TRUTH, A LOT
BUT NOW IT DOESN'T MATTER.
I DIED AND WENT TO HEAVEN,
HER LIFE IS STILL A SHATTER.

ASK MY MOM, HOW SHE IS,
SHE'LL SAY, YES, I'M FINE!"
SHE WANTS TO BEG "PLEASE HELP ME.
I CAN'T FIND THAT BOY OF MINE!"

ASK MY MOM, HOW IS SHE,
SHE'LL SAY I'M ALRIGHT.
IF THAT'S THE TRUTH THEN TELL ME
WHY DOES SHE CRY EACH NIGHT?

ASK MY MOM, HOW IS SHE,
SHE SEEMS TO COPE SO WELL
SHE DIDN'T HAVE A CHOICE, YOU SEE
NOR THE STRENGTH TO YELL.

YOU THINK YOU KNOW THE FEELING
BUT THIS CANNOT BE.
FOR EVEN THOUGH YOU LOVED ME,
YOU DIDN'T LOVE AS MUCH AS SHE.

SHE WILL SMILE AND TELL YOU,
IT'S O.K GOD HAS A PLAN,
BUT SHE WILL TURN AWAY AND CRY
CAUSE SHE JUST CAN'Y UNDERSTAND.

TELL A JOKE AND SHE WILL LAUGH,
BUT SHE IS NOT O.K.
SHE WANTS TO SHARE THE JOKE WITH ME,
BUT IT WILL NOT BE TODAY.

I WATCH FROM HERE, IN HEAVEN.
HER DISTRESS DISTURBS MY PEACE.
WILL SOMEONE PLEASE TAKE CARE OF HER,
AND THUS TAKE CARE OF ME?

SOME DAY YOU WILL FEEL BETTER,
YES I WILL SHE LIES
SHE KNOWS THIS WON'T HAPPEN
UNTIL THE DAY SHE DIES.

I WAS SO LUCKY
I HAD ALL THOSE YEARS
(THEY PASSED IN A MINUTE,
I SHED SO MANY TEARS.)

ASK MY MOM HOW IS SHE,
SHE'LL SAY THANK-YOU GOOD.
SHE CANNOT TELL YOU HOW SHE FEELS.
OH, HOW I WISH SHE COULD.

ASK MY MOM HOW SHE IS,
I'M FINE, I'M WELL, I'M COPING,
FOR GODS SAKE, MOM, JUST TELL THE TRUTH
JUST SAY YOUR HEART IS BROKEN.

ASK MY MOM HOW IS SHE,
I'M WELL, I'M GOOD. AND YOU?"
I'LL SHAKE MY HEAD IN HEAVEN.
IT SIMPLT ISN'T TRUE.

SHE'LL LOVE ME ALL HER LIFE.
I LOVED HER ALL OF MINE.
BUT IF YOU ASK HOW SHE IS
SHE'LL LIE AND SAY SHE FINE.

HER CARNIVAL IS OVER
SHE'S STEPPED OFF THE CAROUSEL
BUT, TO SAVE YOU FEELING BADLY,
SHE'LL SAY, THANKS ALL IS WELL."

MY MOM, SHE'S NOT MAD YET
BUT OH SO VERY NEARLY.
DON'T ASK MY MOM HOW IS SHE,
ASK HOW IS SHE, REALLY.

I AM HERE IN HEAVEN
I CANNOT HUG FROM HERE
IF SHE LIES TO YOU, DON'T LSTEN,
HUG HER HOLD HER NEAR.

ON THE DAY WE MEET AGAIN,
WE'LL SMILE AND BE BOLD.
I'LL SAY, "YOU'RE LUCKY TO GET IN HERE, MOM,
WITH ALL THE LIES YOU TOLD.




To Irene at http://www.give-a-graphic.com

Thank you to Judie Smart and her friends from our angel families,for helping me with my graphics and photo's on rick's page. I would have not been able to do this without her help.
PLEASE LIGHT A CANDLE FOR THE FOLLOWING LINKS. THANK YOU...

http://www.craig-smart.memory-of.com

http://www.dusty-davis.memory-of.com

http://www.nicholas-white.memory-of.com




thank you to judy hunt wife of charles wildhagen.
http://www.charles-wildhagen.memory-of.com



thank you to gail coy mom of crystal earnhart.
http://crystal-earnhart.memory-of.com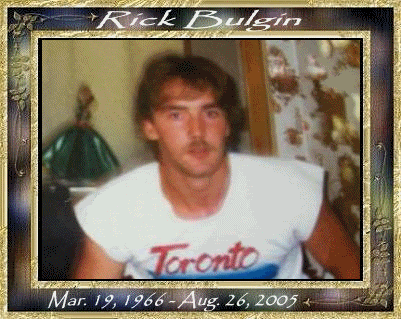 thank you to the family of william myers.
http://www.william-myers.memory-of.com